Brosz Group of Companies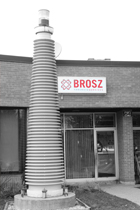 Our team of professional engineers, scientists, technologists, and technicians provide expert analysis for electrical consultants, contractors, equipment owners, manufacturers, and electrical utilities as well as insurance companies, claims adjusters, and law firms.
Whether performing a detailed power systems analysis study for a brand new construction project or analyzing the root cause of a distribution system failure, both Brosz' companies and their relevant industries afford our technical staff a unique perspective in the projects undertaken.
The curriculum vitae of our experts may be obtained upon request. Please review our services for a complete listing of all areas of our expertise.
Leadership
Brosz Group of Companies, operating as Brosz Forensic Services Inc. & Brosz Technical Services Inc.,
is headed by President & CEO, Peter J. Brosz.
The IFE-P is a not-for-profit organization, dedicated
to growing the knowledge base of electro-pathology. Our extensive incident archive includes photo and
video galleries, safety information, accident statistics, and failure rates.

Visit www.ife-p.org for more information on Prof. Brosz current work.
Affiliations
We maintain the following Corporate or Individual Memberships:
AAFS | American Academy of Forensic Sciences
ANSI | American National Standards Institute
ASTM | American Society of Testing Materials
CEA | Canadian Electrical Association
CFAA | Canadian Fire Alarm Association
CSFS | Canadian Society of Forensic Science
EDA | Electricity Distributors Association
IAAI | International Association of Arson Investigation
IAE | International Association of Electrical Inspectors
IAFS | International Association of Forensic Sciences
IEEE | Institute of Electrical and Electronics Engineers Inc.
IIFES | International Institute of Forensic Engineering Sciences
NETA | InterNational Electrical Testing Association
NFPA | National Fire Protection Association
OEL | Ontario Electrical League
PEO | Professional Engineers of Ontario
RYERSON UNIVERSITY
UNIVERSITY OF TORONTO